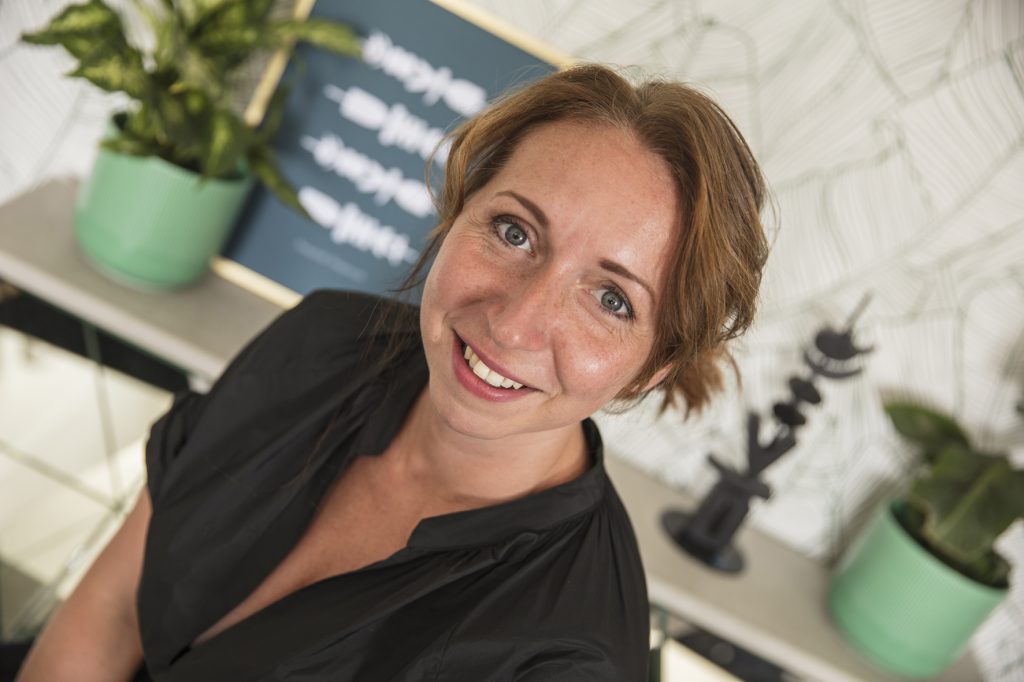 Contact
Jana Potiron
design@janapotiron.com
+421 918 045 319
+420 722 230 891
VAT: CZ8657238975
Jana Potiron
*1986 Slovakia
Furniture and interior, site specific installations
Theoretical focus – psychology in design, material psychology I am a designer who experiments with minimalist forms a seeks mutual overlaps of design and art in a practical as well as a theoretical level. My work includes works ranging from furniture elements influenced by emotions to site-specific installations in public or private spaces. I design with respect for the function of the objects, but primarily I work with associations, expressiveness and human interaction with the material world. Since 2016 I am a head of studio Furniture and Interior design on Faculty of art in Pilsen.
AWARDS
2021
Finalist of Make me! Award / Lodz design festival / Lodz, Poland
Finalist of Národná cena za dizajn / Bratislava, Slovakia
2017
Finalist of Zasedačka Roku
2012
Prize of professor Jindra Halabala / mention / Category Furniture design / Zvolen, Slovakia
2011
Best in design 2010 / Main prize / Zlín, Czechia
2010
Grand Prix Mobitex / Main prize / Brno, Czechia10 / Main prize / Zlín, Czechia
Rings in water / mention / free category / Bratislava, Slovakia
MEMBER OF JURY
2019 – 2021
Inspireli Awards / The world largest international competition
2020
Prize of professor Jindra Halabala
2019
Olověný Dušan / chairman of the jury / ČVUT Prague, Czech republic
Proceram / Award for young architects and designers / Prague, Czech rep.
SELECTION OF EXHIBITIONS AND INSTALLATIONS
2021
Lodz design festival / Poland
2020
Contemporary souvenir, Bratislava, Slovakia
2019
Czech Design week, Praha / Pilsen design week / Vytvorené na Slovensku, Dolný Kubín, Slovakia/ Liptovská galéria P. M. Bohúňa, Liptovský Mikuláš, Slovakia
2017
Concrete, blue and space , solo exhibition, Galery of Ladislav Sutnar, Pilsen, Czech republic / 12.madeinhungary + 05.MeeD design without borders, Budapest, Hungary / Zasedačka roku, finalist of competition, Prague, Czech republic / rozHlas! – Light interactive installation with Ondrej Maksi, for festival of contemporary art Nuit blanche, Bratislava, Slovakia
In or Out House – site-specific installation, spatial drawing for Nuit blanche Bratislava, Slovakia and for Galery of Ladislav Sutnar, Pilsen, Czech republic / Transport design FDULS scenography for Designblok Prague, Czech republic
2015
Designblok, Prague / Welcome in Slovakia! – site-specific installation, billboard made from flowers for Nuit Blanche Košice, Slovakia
2013
Designweek 2013, Budapest, Hungary / Skokan – site-specific installation for return of the water, Košice, Slovakia
2012
MEED – Made in Hungary, Millenaris, Budapest, Hungary / Designblok, Prague, Czech republic / Living structure – light installation for Nuit Blanche, Košice, Slovakia
2011
KEKSy Design, Úľuv (The center for folk art production), Bratislava / Design week Bratislava, Slovakia
Byt 70/80 / New collection by KEKS Design, collection of furniture / Košice / Design Forum, Nitra, Slovakia / Cena profesora Halabalu / Zvolen, Bratislava, Warsaw, Berlin, Brno, Trenčín
EDUCATION
2011-2014
Artis doctor (ArtD.) in design: " Application of art means of expression in product design" / Technical university of Košice / Faculty of art / Slovakia
2005-2011
Mgr.art. / Technical university of Košice / Faculty of art / Product design and innovation / bachelor's and master's studies / Slovakia
2009
Budapest Tech Polytechnical Institution / Digital printing and environmental management / Budapest, Hungary
2007-2008
Instituto Politecnico de Castelo Branco / Interior design and furniture / Castelo Branco, Portugal
WORK
since 2015
Ladislav Sutnar Faculty of design and art, University of West Bohemia Pilsen, Czech republic / Head of the studio Furniture and interior design (since 2016)
since 2015
freelancer / interior designer
2009-2014
KEKS Design/creativelab / socio-cultural and design projects / product designer / Košice, Slovakia
2012-2013
Steel park – Creativefactory / chief designer / design of entertainment technical center / realization, coordination, leadership of the team of designers and architects / Košice, Slovakia
2010
Bloomconsulting / internship / strategy, consulting company and corporate identity/ Madrid, Spain